Klick Magazine 07/10 (Schweden)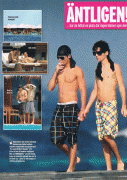 ©Klick
Click for bigger size!

Translation
Finally!
They've found a place were no one recognize them
picture 1 : The boys hotel. Jealous?
Picture 2 : Cheers, Brother
Picture 3 : Mask on, Mask off.

Tokio Hotel is the biggest German phenomenon that has affected the worlds teenagers since Goethe had it's breakthrough with " The young Werthers sufferings" 1774 (?)
It's obvious that the bands frontiersmen Bill and Tom Kaulitz - that everyday be surrounded by hundreds of screaming fans wherever they turn - now enjoy the peacefulness on the Maldives.
Scans and translation by KaulitzLoveer @ THus

bisher 0 Kommentar(e)     TrackBack-URL